The Young carer group meets every two weeks on a Tuesday lunchtime in school, we also offer 1-1 support meetings for students.
December 2019, St Clement's High school was absolutely delighted once again to have passed all of the standards set by the Norfolk Young Carers Forum and to be awarded our Carer Friendly Tick Award in Education for a further 2 year's
If you have any questions or queries regarding Young Carer's please speak to Mrs Addison-Paul.
Due to COVID-19, meetings in school have been suspended until school can reopen again, if you need any support or advice during this time please email Mrs Addison-Paul on l.addison-paul@stclementshighschool.org.uk
---
---
For Carers Week Channel 4 news are conducting a quick survey of young carers across the UK - they want to hear how Covid-19 pandemic has affected you. Only takes 2 minutes to answer...
https://www.surveymonkey.com/r/NWB3G3P
---
Heros at Home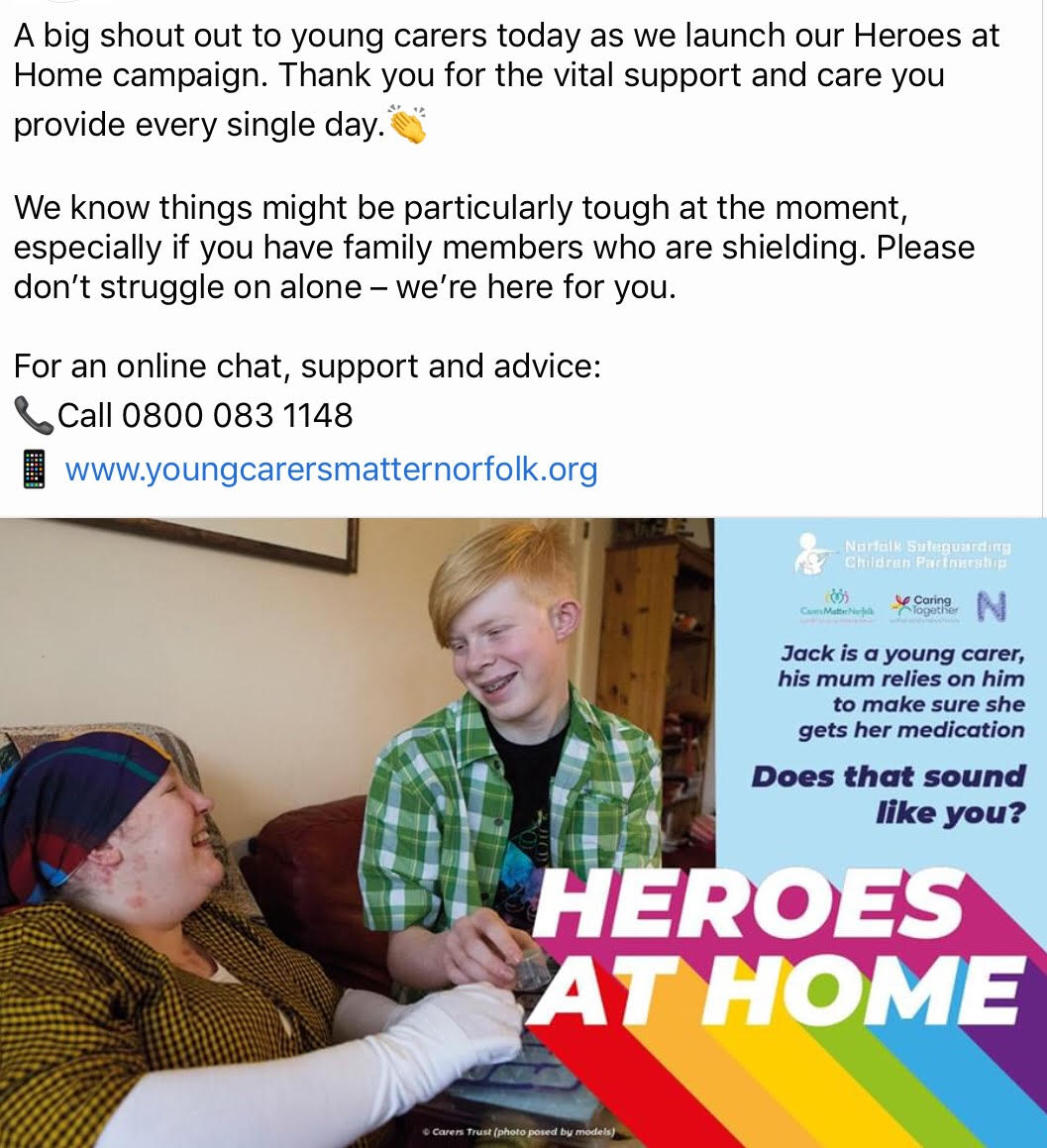 ---
Young Carer News
Heroes at Home Campaign
At a recent NYCP meeting young carers were heard talking really powerfully about how they feel young carers are being ignored and not recognised by wider society (e.g. with the Clap for Carers concept) at the moment. This message went back to Norfolk County Council and they have been really keen to do something about that. So they have worked with young carers from the forum, Carers Matter Norfolk and at Caring Together to come up with an awareness and recognition campaign which launches on Monday 18th May 2020, called "Heroes at Home".
This campaign will see a thank you postcard sent out to young carers in Norfolk as well as an awareness campaign across social media signposting young carers to the Carers Matter Norfolk website and helpline that is available.
Walking4Norfolk Lockdown Challenge
Many organisations have benefited from the great support of James Bagge and Walking4Norfolk over the past couple of years. In case you hadn't heard, he is at it again and this time he is wanting to raise money specifically for young carers. The idea is that funds raised would allow individual young carers and families to apply for support to purchase things which they are in real need of due to Covid-19 James has managed to rally together 10 teams (some walking, some cycling) to do a virtual race from Lands End to John O'Groats (all whilst adhering to government guidelines) – more information can be found at https://walking4norfolk.com/lockdown-challenge/
Young Carers Survey
As you may have seen, through our Norfolk Young Carers Forum work, there has been a lot of opportunities for young carers in Norfolk to help raise awareness of the challenges they and their families are facing through local, regional and national media opportunities (including BBC Radio Norfolk, Heart Radio, LBC Radio, BBC Radio 4 Woman's Hour, ITV Anglia, ITV News online, Sky News). Lots of this has been on the back of both the UEA research that many of you have supported, but also the carers survey which we have live.
The survey is giving really useful information about what support young carers need right now and how they are being affected by Covid-19, and so I am really keen to get as many young carers (and adult carers) to complete it as possible.
The survey will be closing in the next couple of weeks so that we can have final results ready for Carers Week – If you are a young carer please do complete the survey – there are only 6 questions (and 5 of them are multiple-choice – if you complete the survey, you will be entered into a prize draw – we have a £25 and a £10 giftcard up for grabs - https://www.surveymonkey.co.uk/r/CT_carer_COVID19