Transition from Year 6
Congratulations on being offered a place for September 2021, even within these unprecedented times we hope you are excited about the transition into secondary education and whilst this year will be different than previous years our aim is to make the transition into secondary education as seamless as possible.
We work closely with our feeder and non-feeder schools, starting at the end of the Year 5 and continuing throughout Year 6. We are fortunate that the staff we work with in the primary schools value transition as much as we do and look forward to our individual meetings with each teacher.
Towards the end of the year we also hope to meet you in person, we enjoy finding out your interests and answering any questions you may have about starting at St Clement's High School.
This year we haven't been able to have our traditional transitional day and evening, but have had an overwhelming attendance at our Virtual Q&A, our tutor appointments and Summer School interest. To help you start with your transition our Year 7 Student Council have collated some pearls of wisdom - "If I knew then, what I know now" we hope you find it helpful.
In the meantime if you have any questions about life at St Clement's High School – no matter how small you may think it is, please submit it here
Students at St Clement's High School take great pride in their appearance, we have two school uniform providers, one for our PE kit (Birds) and one for our School uniform (Price & Buckland). All information regarding our uniform will be sent out in due course, in the meantime we would encourage you to visit our Uniform section on the school website, this will allow you to see our uniform policy and links to our uniform providers.
SUMMER SCHOOL
We are excited to share with you our Year 6-Year 7 Summer School on Monday 2nd – Friday 6th August, this is fully funded by the Government as part of their Catch-up programme, we would encourage all students to attend to allow them to become more comfortable in their new surroundings ahead of September, meet their new teachers and fellow peers and of course spend time developing skills which their primary schools have suggested as key areas of focus. To participate you need to give an expression of interest, please email summerschool@stclementshigh.org.uk by Monday 24th May 2021.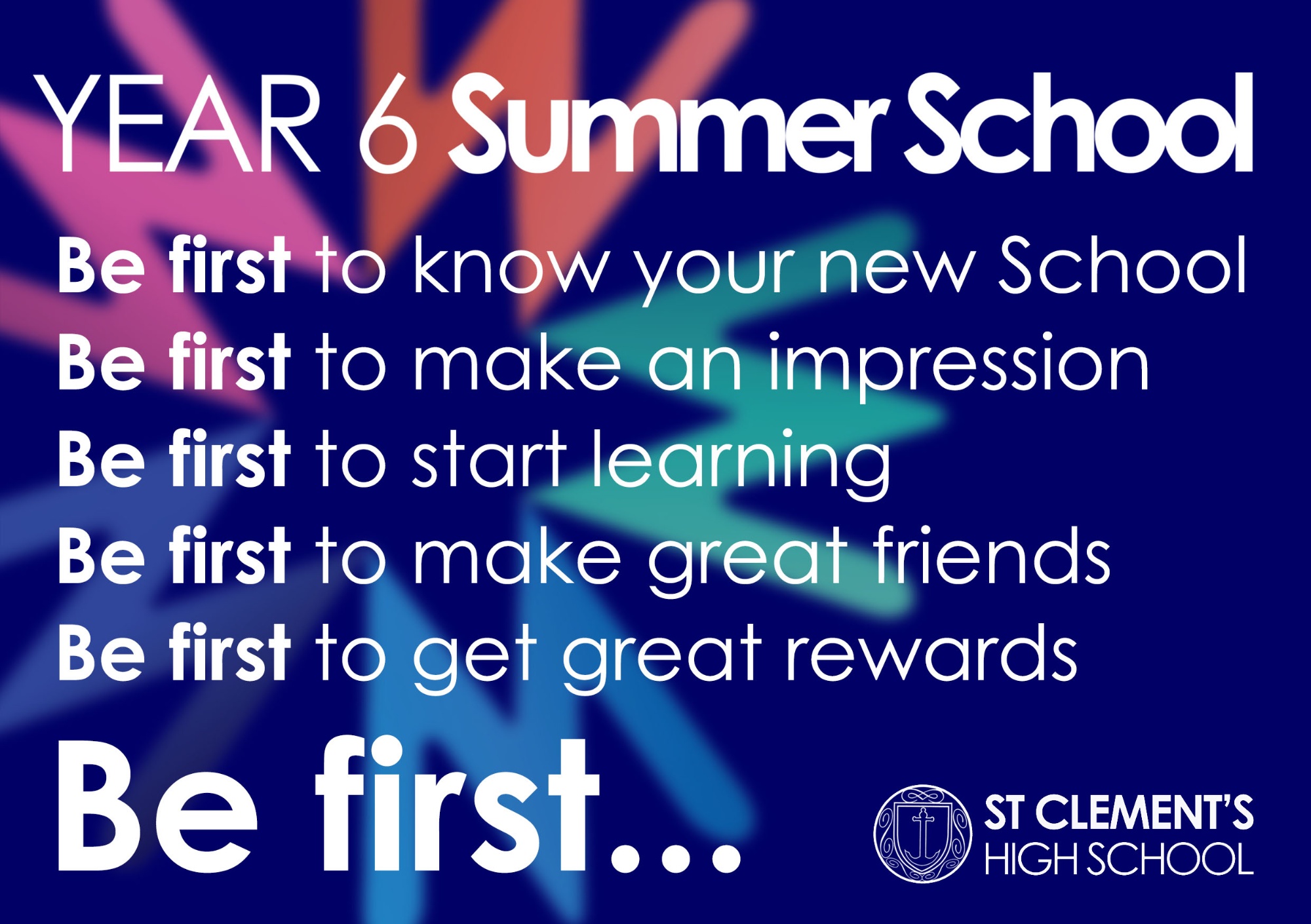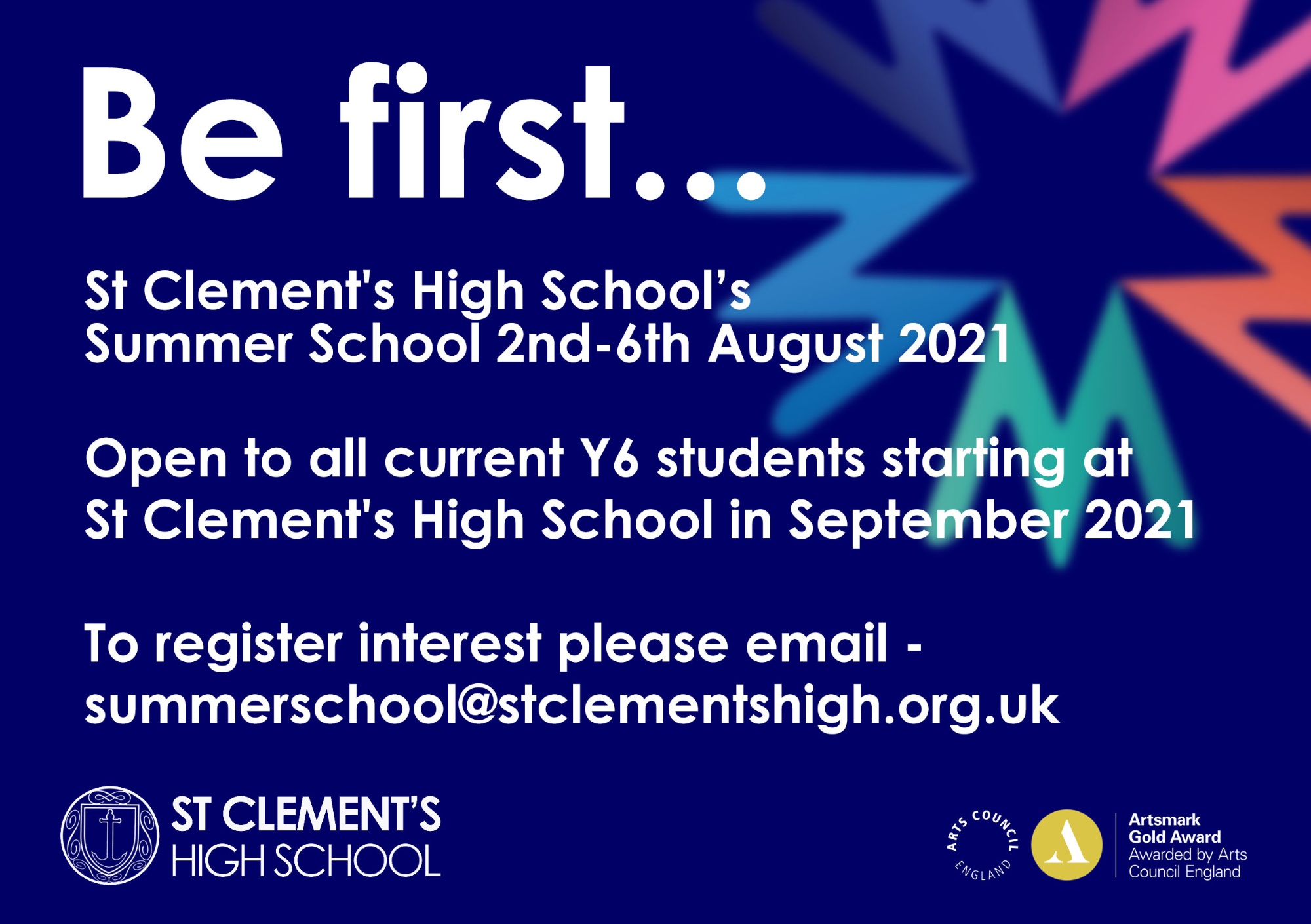 CORRESPONDANCE
ACADEMIC TRANSITION
In the middle of June you received your transition pack. There was a lot of information in here, including information about who your tutor is - you will also find a map of the school site and sample timetable. These would work well together, to help you plan out how you could get around the School.
Within the pack you also have a range of academic transitions provided by your new teachers. To fully understand this and what is expected of you please read this. To download the Introduction to Academic Transition click here.
The tasks that teachers would like handed in on their first lesson;
You will also find....
If you have any questions about the work provided, please do not hesitate to get in touch by email to: y6@stclementshigh.org.uk
Getting to know your school
You may have already seen the promotional video of St Clement's High School. The video below was created especially for September 2020 cohort who missed out on their transition day. It was designed to help them learn their new surroundings and may also be of interest to you. No-one is expecting you to know your way around and actually our older students love the opportunity to show you around and escort you to your lessons, so do not panic! The crossroads is perhaps the most confusing part of our School, but it's also where Mrs Cawston, our pastoral support officer, has her office so she will happily help you out.

Key areas of the school
Our school map is shown at the start of the video, but we have also included a copy here for you to look at.
We have spent time developing our School map into an Interactive Map for you, this should help you recognise different places seen on the video and then hopefully help you in September when you are finding your way around. The Interactive School Map contains some pictures from around the school. See if you can find them by clicking on some of the room numbers and areas.
Sample Timetable
You have seen the school, through the School Tour video , you have used the Interactive School Map to help you get used to your new surroundings. In September you will be given a timetable and it's a good idea to spend time (particularly in the first week) just checking you know how to get to each of your lessons. To help with this use a sample timetable and the school map. Good Luck!
Transport to High School
Parents/Carers will need to apply for transport through Norfolk County Council on their website.
There is also supporting information to help with the application process which you can find by clicking here.
If you have any questions regarding transport in this first instance please contact Norfolk County Council.
Suggested reading to support your transition to High School
The books, You Are Awesome: Find Your Confidence and Dare to be Brilliant at (Almost) Anything and Go Big are National recommended reads for Year 6 students transition into Year 7. It can be used by students and parents at home or in school with teachers in class. It is designed to be motivational, helpful and reassuring and to help young people feel valued, loved, encouraged and equipped for the journey ahead.
These resources provide information, tips and questions to help you open up discussion with your child about the transition and help prepare them for starting secondary school:
These resources provide information, tips and questions to help you open up discussion with your child about the transition and help prepare them for starting secondary school:
If you enjoy reading, we would also recommend starting on our KS3 Reading List set by our English department.