Kind hearted students help bereavement charity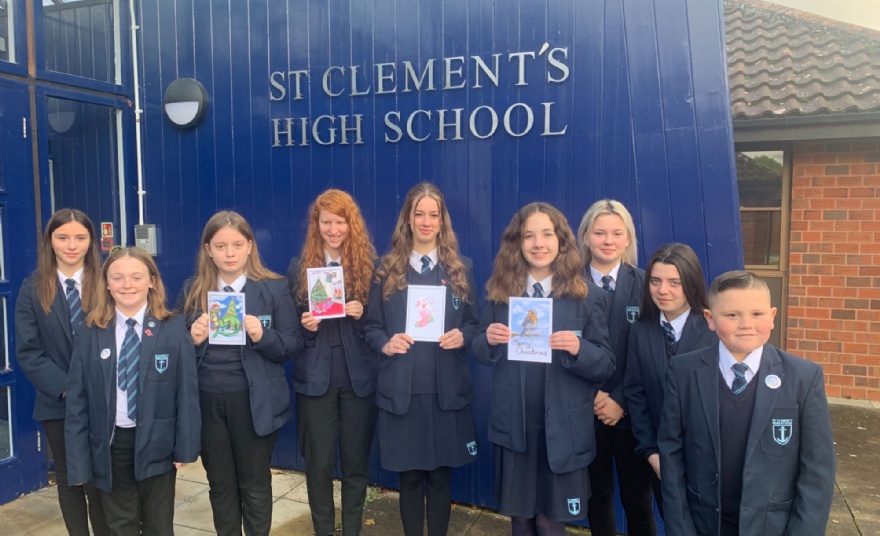 Some of our students are fundraising this Christmas to help others in Norfolk who have lost loved ones.
The students met through our school's Bereavement Group, and decided to run a Christmas card competition to raise money for Nelson's Journey, a local charity that supports bereaved young people.
Emily Cawston, Year 7 Pastoral and Safeguarding Officer at our school explained: "In my role, I offer support and guidance for students in school, and I wanted to be better able to support those students who have experienced bereavement, so I trained in this area, and now this support is offered in school via the group sessions or one-to-one.
"The group is open to all students from Year 7 to Year 11, and we meet monthly. It helps the students to realise they are not alone in their experience and are always happy to support each other."
She continued: "The group were discussing ideas, and we thought a Christmas card competition was a brilliant way to involve the school and bring some awareness to the cause.
"The students were eager to help promote this, and it's a lovely way for them to feel that they are doing good in the memory of their loved ones."
Entries to the competition were judged by the group members with the help of our headteacher Nigel Willingham, and four winners were chosen: 14-year-old Megan Ogden, 13-year-old Caitlin Cox, Maya Cazot, aged 12, and Beth Pettifar, also 12.
The winners had their designs made into Christmas cards, which we are selling for £1 each, with all proceeds going directly to Nelson's Journey.
Bereavement Group member Fay Bennison, who is in Year 9, said: "We wanted to raise money for Nelson's Journey so they can continue to help other young people like us.
"It's also a way to honour my mum, who passed away in 2017."
Mrs Cawston added: "The standard was so high that we chose four designs to make into the Christmas cards.
"We had 200 printed – 50 of each design – and they are available in school for a £1 donation. Our special thanks go to Limetree Printing Ltd, who printed the cards for free, so all the profits can go straight to charity.
"If we manage to raise £200, that would be amazing!"