Jeans for Genes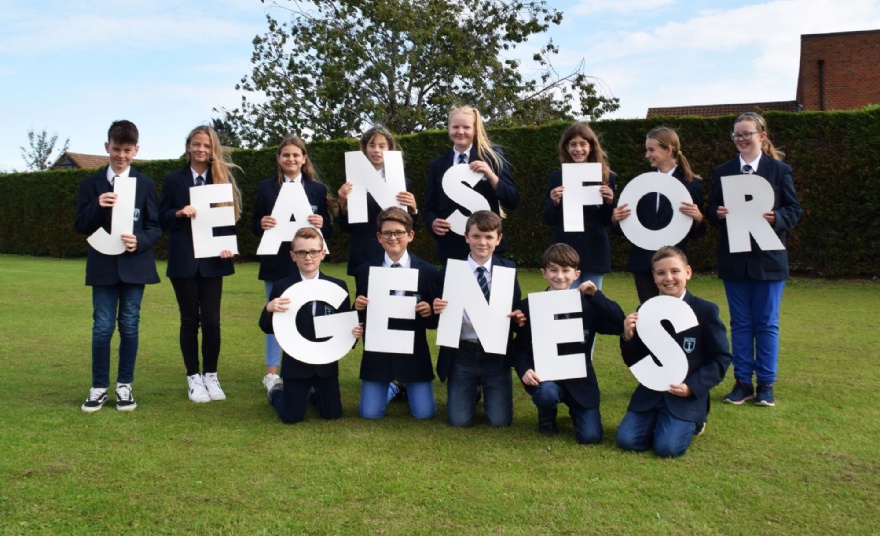 St Clement's students showed their caring side by swapping their school uniforms for jeans to raise money to help those affected by genetic conditions.
Some 450 of our students took part in Jeans for Genes Day, each donating £1 to the charity which supports the 500 children in the UK who are affected by life-altering genetic disorders.
The funds raised will go towards providing day-to-day support, equipment, respite care, and events for affected children and their families, and will bring the total donated by our school to the charity since we first participated in the event to over £4,000.
Five prefects from the Equality and Diversity Group gave assemblies over the course of a week to explain the work of Jeans for Genes to their peers, ahead of the fundraising Friday.
"During the week, Year 11 students from the school's Equality and Diversity Group presented assemblies to the younger students," said headteacher Nigel Willingham. "The group has around 20 members, but this presentation was done by the prefects who have shown an interest in this area.
"St Clement's has taken part in Jeans for Genes Day for about 10 years now – our records go back to 2015, but we think we did it before then.
"We liked the cause and the opportunity for our students to learn about genetic conditions while having an incentive to engage."
Charity work is important at St Clement's, Mr Willingham added, and our school, which is a member of the West Norfolk Academies Trust, regularly engages in fundraising, from Operation Christmas Child to supporting the local care home and collecting for food banks.
"The students have been really moved by the stories they have heard this week," he continued, "and, while they have enjoyed wearing their jeans for a day, the knowledge and understanding they have gained will last a lifetime."