Students raise hundreds on Jeans for Genes Day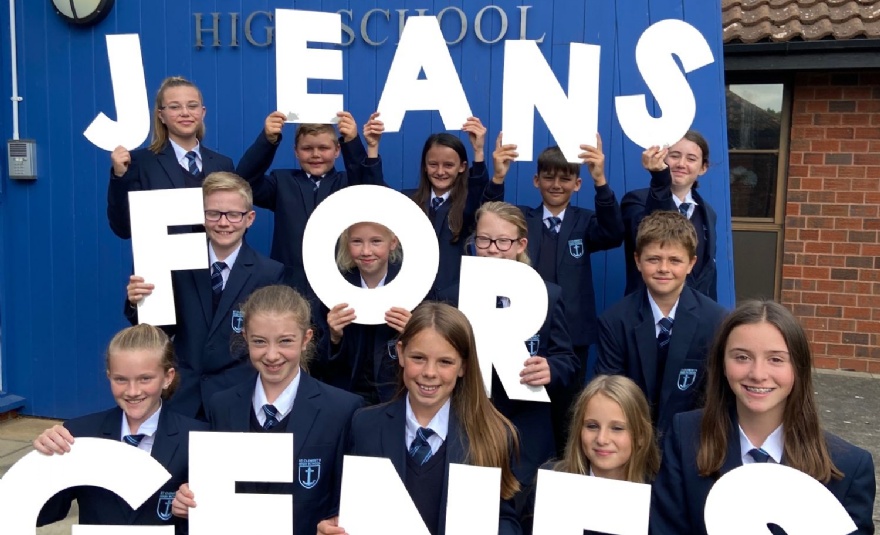 Our students and staff have raised hundreds of pounds to help children with genetic disorders by taking part in a national fundraiser.
We raised more than £400 during its annual Jeans for Genes event where students were able to swap wearing their school uniform for jeans in return for paying a donation of one pound or more.
Staff were also invited to wear their denims for the event.
Nigel Willingham, head teacher, said: "It was wonderful to see the students not only raising money for the wider community but understanding the difficulties that some face, and how as active citizens they can make a difference."
The Jeans for Genes campaign raises awareness of the daily challenges of those living with genetic disorders and funds projects to support those affected.
Throughout the week, students also learned about a range of genetic disorders, including how these diseases can affect individuals and their families and how the money raised will help them.
All of years 7-9 pupils watched an awareness video during tutor time.
A weekly quiz was also dedicated to the topic of genetic diseases and the importance of Jeans for Genes day.
The fundraising day also provided an example of getting involved in charitable events, following on from an assembly held at the school on being an active citizen.
One student said: "I wanted to supported Jeans for Genes day, because I felt it was very important to help people that have a genetic disorder.
"I found learning about some of the disorders and how they can effect their friends and family really eye-opening."
Another said: "Jeans for Genes day is a really fun day, I like being an active part of our community and I really enjoy being able to help others."
An estimated one in 25 children in the UK are born with a genetic disorder, such as cystic fibrosis, sickle cell anaemia, Huntington's Disease and haemophilia.
The money raised on Jeans for Genes Day provides grants for day-to-day support, equipment, nursing and patient support services, and events which bring together affected children and their families.