'National Theatre Connections 2017' of 'Status Update' by Tim Etchells.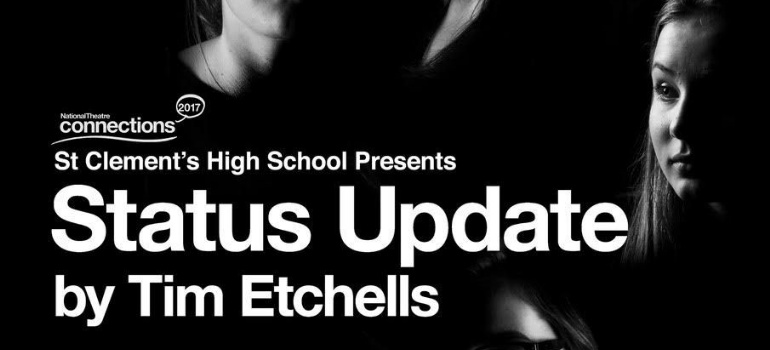 Tickets still available!!!!!!
Please find attached, the details for our forthcoming 'National Theatre Connections 2017' of 'Status Update' by Tim Etchells. St Clements High will be performing at the King's Lynn Arts Centre on the 25th April at 7pm, and the following evening (26th) at the Norwich Playhouse at 7pm.
During the early part of 2016, we applied to the National Theatre for the opportunity to participate in their 'Connections 2017' festival. The National Theatre Connections festival allows a select number of young actors across the UK (and beyond) the chance to perform a new play locally, as well as at a regional theatre. The plays performed have been written by some of the UK's leading playwrights and the young actors involved will be the first people ever to perform them.
The bid we put forward to The National Theatre was successful and after an audition process involving over fifty of our GCSE Drama students, we arrived at our cast of nine. The nine actors have been working over many weeks to bring our selected new play to life. The play they will be performing is 'Status Update', written by the award winning visual artist and writer, Tim Etchells.
Etchells is renowned across the world for his unique contemporary theatre (Forced Entertainment) and his visual art. Tim was a Tate / Live Art Thinker In Residence Award winner in 2008, Artist of the City of Lisbon in 2014 and in the US; he received the prestigious Spalding Gray Award in February 2016. Forced Entertainment were recently announced as the winners of the Ibsen Award for their ground-breaking contribution to the field of contemporary theatre and performance.
'Status Update' is a fascinating and challenging play that explores what teenagers know and understand about themselves and the world around them…
'We know facts. We know secrets. We have opinions, we have intuition and we have the stage. Status Update is an unflinching and funny catalogue of the things teenagers learn, believe and have sussed out about the world. From the ridiculous to the highly charged, all these truths and half-truths are laid bare before us, without the safety net of character or fiction.'
We would like to invite you to join our nine actors and our school, as they perform Status Update at the King's Lynn Arts Centre on the 25th April @ 7pm. This is the first time St Clement's High School has ever participated in a performance of this level and we would really appreciate your support.
As a school, we are committed to offering our students experiences and opportunities that will enrich their lives and their learning as young people. We hope that you will be a part of this and join us at The Arts Centre on the 25th April or at the Norwich Playhouse on 26th April.
Thank you for your support and we hope you enjoy the performance.